I hope you all are having a wonderful weekend!
I know I am!
My Mama is here until Monday evening and has been since Thursday!
I love having her here all to myself well and to
share with the kids and the hubby.
Other news...
Can you see it?!?
I have recently gone through and still going through a remodel
here at Our Crazy Bunch.
has hooked me and the blog up.
She was ever so patient with me as I asked a thousand
questions.
She has such cute designs and has awesome package prices.
Plus she gives a 'wicked' (oh yeah I've been in Boston too long)
military discount!
Go check her out if you are in the market for a new and improved blog.
Please bare with me as I have some remodeling left to do.
On to the WINNER of the $100 Visa Gift Card....
The winner was chosen by random.org and is...
# 147 Robin
She has claimed her prize already.
Congrats to everyone who entered and who made their daily tweets.
Thank you for following Our Crazy Bunch.
Stay tuned for more exciting giveaways to come.
Finally if you are in the mood for one of my favorite weekend hops
then head over to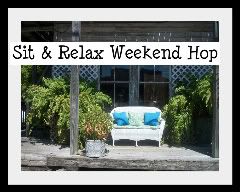 I hope you are all having a wonderful weekend!
We are headed into Boston today for some exploring!
Many pictures to come.