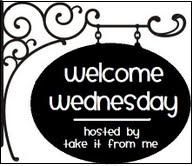 A big thank you to Jaime and Kristin for hosting the
wonderful weekly
'Welcome Wednesday' blog hop.
Another big thank you for letting my blog be one of the
spotlight blogs for this week!
So welcome to all new followers.
I hope you like what you see and that you come back around.
I have a lot of exciting things coming up.