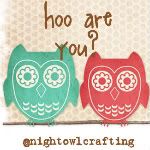 I love getting to know other bloggers and giving them extra information about me. That is why I love the 'Hoo Are You' Tuesday's over at
Night Owl Crafting
. So go on join up and tell us all your 'dirty little secrets'.
:)
1. Do you use an alarm clock or some device to wake you up, or do you wake up on your own?
Yes, I use an alarm on the weekdays to make sure I'm up to get my kids and hubby out the door on time.
2. If you could go on any game show, which won would you choose?
Minute to Win it. I LOVE that show
3. Do you prefer the weather to be hot or cold?
In between. I love the cold but not the blistering clod. You know like I am getting now. :)
4.What color of clothing do you wear the most?
Darker colors mostly. Blacks, Browns, Grey. I'm sort of depressing huh?
5. What is your favorite color?
Pink by far!