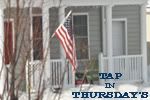 Over at
Army Strong
they have a great little hop for us military wives.
Each week the questions will be your own experiences so that you might help another military wife.
LOVE that!
Here are this week's questions about quarters (for you non-military that is our house situation)
1. Name an instillation you have been stationed.
Since we JUST moved I am going to go with our new duty station Hanscom AFB.
Even though we are a Marine family
2. Did/do you live on or off post?
On base

3. What would you recommend for newcomers to do about housing?
Since this is such a high cost of living area I would suggest living on base if you have kids.
If you do not have children yet depending on your BAH you could possibly make some money living in an apartment out in town.
4. Where is an inexpensive place you can stay off post while waiting for on post living?
We did not stay off base when we first got here.
Only becasue the Air Force Lodge is super cheap.
Like $42 for a bedroom with 2 queen beds, a fell kitchen to include a full size fridge, oven,
microwave and dishwasher.
Plus a sitting room with a pull out couch.
5. How is the housing office? Do you have any recommendations or specific people to speak with?
The housing here is privatized through Pinnacle Family Housing.
They are all very nice there and super friendly.
A lot of the houses are going through renovations currently but will be completed by this summer.
I would recommend talking with Amanda but like I said they are all friendly.
6. How is the wait list?
With us moving here at the beginning of the year we had no wait.
I did hear that last summer there was a wait time of over 8 weeks however they had just began the renovations so I've been told that is why.
In fact we had accepted our house while visiting our family before we got here.