So while out blog stalking...
I mean hopping I came across
this cute blog hop that you can record
your children's funny ideas, actions, thoughts.
Then you link up and read other funny kid stories.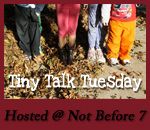 Here is mine...
A few weeks ago when tucking all
my kiddos into bed
my little Rosie came and asked me to read
her a bedtime story.
She asked me when I was getting Hulk into
his pj's and I told her very nicely
"not tonight
Mommy has a bad headache"
(migraine that I was headed to bed with after they were all tucked in)
She followed me to Ninja's room while
I tucked him in and told him no story tonight
Mommy didn't feel well.
He took it just fine and said ok tomorrow 2 stories.
Which seemed only fair.
Rosie asked once again
"Will you read me Silverlicious"
As I was walking her into her room to
tuck her in she is still
asking and whining which of course
is great for my migraine.
You know since my doctor just asked me
"You have 4 kids right?"
"Do you think they could be the reason for your migraines"
No lie I couldn't make that up!
I thought to myself and she went to medical school!?!
Back to my story...
Rosie and I had a talk about the headache she had
gotten a few months before
and I thought she was ok with me not
reading to her that night.
Especially since I promise all 4 of the
Pinkilicious books the next night.
I kissed her and went downstairs.
I picked up a few little last minute didn't want to see
in the morning things and took my migraine pills.
Told the hubby I was going up to bed.
While I was doing that I heard feet run across
the upstairs hall into my bedroom and back.
When my hubby and I got the bedroom
I found Silverlicious and this note on my pillow.
For those of you who can not make it out it says...
"I have a mean Mom"
"She wont even read me Silverlicious"
I am sure this little note was suppose to break my heart
and have me come running in to read her the book.
Instead it threw me into a fit of laughter.
I couldn't breath I was laughing so hard.
I had to go ask Miss Rosie what the second line
was since I couldn't make it out.
She was NOT amused that I thought her letter was funny.
I told her I was keeping this little
"hate" letter and would frame it for her.
One day she would come to laugh at it and love it like I do now.
For now I am just a mean mom.
I am sure one day it will be worse.
My own mother wrote on her dresser that is now in Rosie's room
"I hate Mom"
Maybe that is where she got the idea from?
What about your kids?
Have you gotten any funny letters yet?