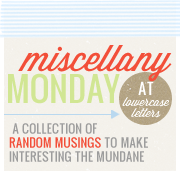 1. Flying Kites
Great high 60's temps and windy days make for
wonderful kits flying. Pictures coming later.
2. Cadbury
These dang Cadbury eggs get me every year.
I know how much I can NOT resist them
yet I buy them every time I see them.
3. Birthday Planning
Little Ninja turns 4 tomorrow and I
have been busy getting his birthday party together.
You can't bring cupcakes to school here
so goodie bags have been made.
Although birthday cupcakes at school is much better.
It's almost non-American to not have birthday cupcakes
brought to school.
OK, not really but close.
4. Family
I am getting super excited for our
first visitors to come see us.
The wonderful in-laws are coming in just over 2 weeks
to help promote the hubby.
Then in another 2 months my mom is coming out
for a few days and I cant wait.
So that's it my randomness.
More birthday posts this week I'm sure and kite flying too.
Remember once I hit 500 followers I am doing a
$100 Visa Giftcard giveaway!
So follow and pass me along.